In Stock and Ready to Ship
After almost a year and a half from the original Group Buy, the Ginkgo65 is back, better than ever, in the form of the Ginkgo65 Pro.
A suite of improvements have been made, to ensure it keeps up with the amazing keyboards that fellow enthusiasts have access to now in 2023. This includes:
More Unique Case Colors
Gasket Module replacing the Poron Gasket System
Material Upgrade for PCB
Individual Semi Flex Cut Plates (Optional, sold separately)
Choice of Flex Cut and Non-Flex Cut PCB
Layout support improvement for Hotswap PCB
Replaceable PVD Logo Weight
Removable Blockers (Optional, sold separately)
Improved IXPE foam - Better Foamability
Hotswap PCB Supported Layouts and Specs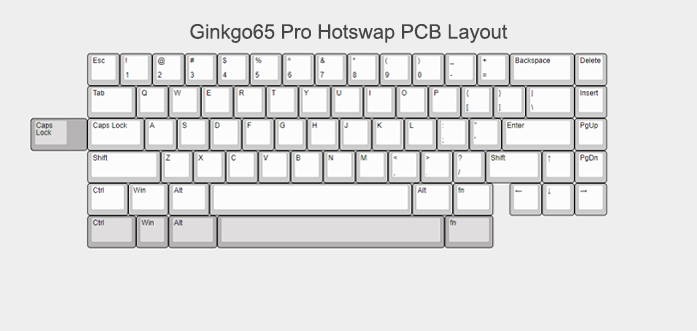 Hot-swap PCB: 1.2 mm thick and with Ai03 daughterboard
QMK/VIA support
Compatible with stepped capslock and 7U layout
ESD Protection
Flex cut or Non-flex cut
Specs
Typing angle: 7 degrees
Dimension: 320.39 *119.47* 32.72 mm
Front Height: 19.18mm
Weight (unbuilt): 1.3kg or 2.87 lbs
Case material: 6063 Aluminum
Mounting Method: Gasket Mount using gasket module
Package Includes
Top and Bottom Cases
Default PC Plate
Hotswap PCB (Flex-cut/Non-Flex-Cut)
PVD Logo Weight
Poron Dampener Kit
Gasket Modules
Storage Case
AI03 daughter board
JST cable
M·ONE Stabilizers
Keyboard feet
Screw and hex screwdriver
Silicone gasket sleeves
Quality Disclaimer
Small scratches inside the keyboard case, or dents on the case that are not visible when the keyboard is fully built. These are normal and within our quality acceptance.
Since there are so many variations, renders are for display purposes only. The renders are given to provide an idea to what the final product will look like. The physical product may have some differences. Please also refer to the prototype's photos as reference before purchasing.