Details
GB Start Date: 10 October 2023, 8PM
GB End Date: 30 October 2023, 11:59 PM
Format: Unlimited GB
Estimated Fulfilment: February 2024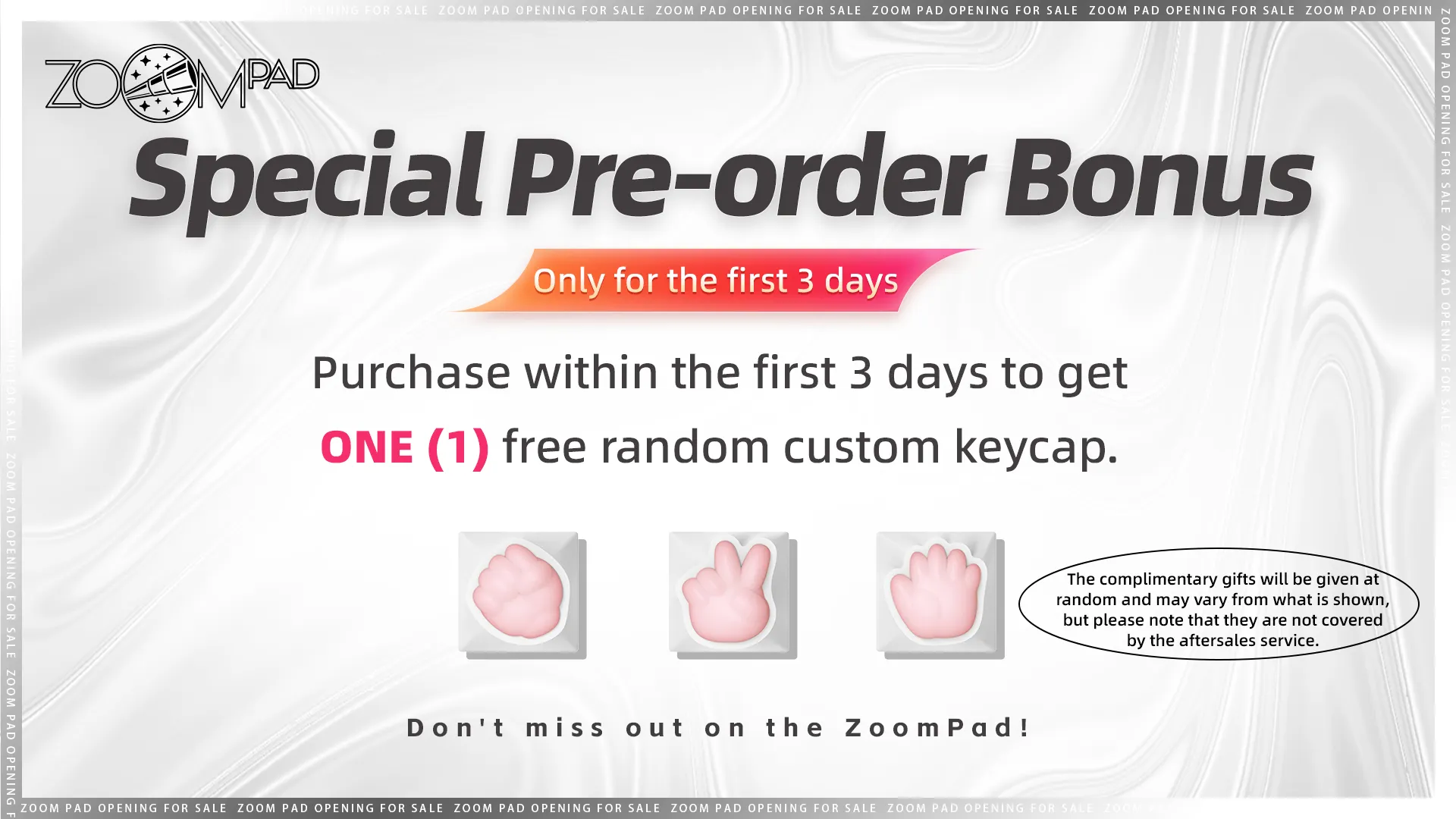 The ZoomPad is here! Designed as the perfect partner-in-crime to your keyboard, the ZoomPad aims to bring a great numpad experience whenever you need it the most.
Not to mention, it is designed to be a perfect match with the Zoom75, if you have purchased a Zoom75, this would be an amazing option to spice up the setup even more! Of course, the amount of color options mean that it will be easy to match with whatever color scheme you're going for even if you don't have a Zoom75.
It even comes with an LED illuminated knob to set it apart from a plain numpad! (Only on Tri-Mode PCBs)
Specs
Keyboard Layout: 20 keys

Typing Angle: 5 degrees

Front Height: 20mm

Case Material: Aluminum

Mounting Style: Gasket Mount

PCB Version:

Tri-mode Non-Flex Cut Hotswap RGB PCB / Wired Non-flex Cut Hotswap PCB

PCB: 1.2mm thickness, with Ai03 daughterboard

Battery Capacity: 600mAh

Default Plate: PC

Bluetooth Version: 5.2

Bluetooth Support: Can be paired up to 3 devices

Connection Method:

Tri-mode (Wired & Bluetooth 5.2 & 2.4G) & Wired mode (for Wired PCB)

Switch Support: Hot-swappable(5 pin & 3 pin)

Electrostatic (ESD) Protection: Yes

Dimension: 145.73 x 94. 83x 34.7 (mm)

Finishing Treatment: Electrostatic coated, Anodized, E-white

System Supported: Windows, Mac, iOS, Android

VIA/QMK Support:

Tri-mode PCB supports VIA.

The wired PCB supports QMK/VIA.

Polling Rate:

Zoom Pad Bluetooth PCB polling rate: 125Hz

Zoom Pad 2.4GHz Polling Rate: 1000HZ

Zoom Pad Wired Polling Rate: 1000HZ

Weight:

Essential kit with Alu knob/weight / Glass Mirror Back Plate: 0.67 kg

Essential kit with brass knob / PVD SS weight / Glass Mirror Back Plate: 0.72kg

Essential kit with Alu knob/weight/PVD Back Plate: 0.72kg

Essential kit with brass knob / PVD SS weight / PVD Back Plate: 0.77 kg
Package Includes
Aluminum Top and Bottom Case of buyer's choice
Aluminum rotary knob matching the external weight
Backplate of the same case color
Wired Non-Flex Cut PCB
PC Plate
Daughterboard/JST Cable
Poron Dampener Kit (Poron Plate Foam, Poron Switch Foam, PORON PCB Foam, Gasket)
Set of Stabilizers (WS Stabs V3.1)
Silicone Feet
Screw Bag + Allen Key
Default Backplate Kitting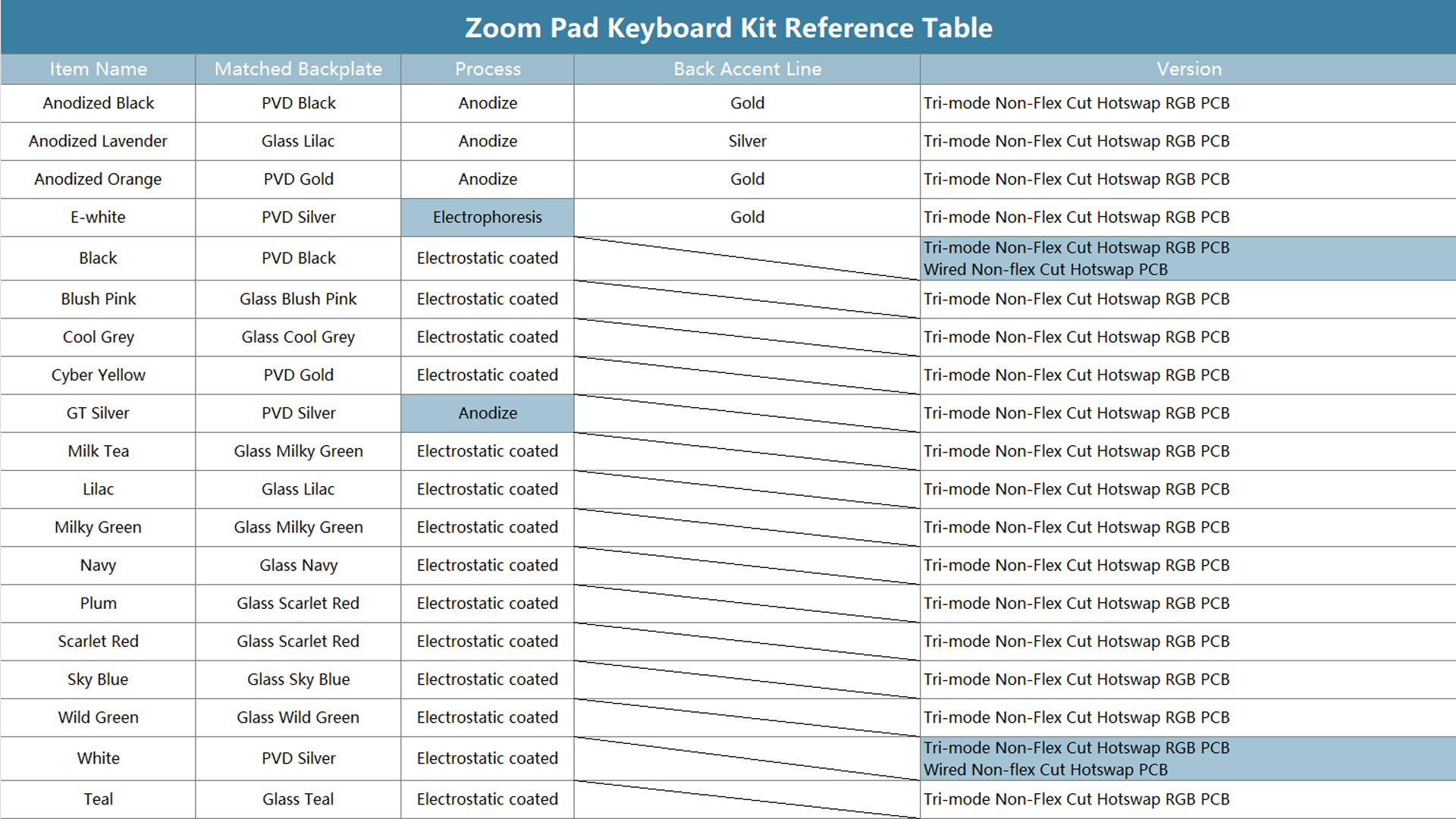 Accessories Specs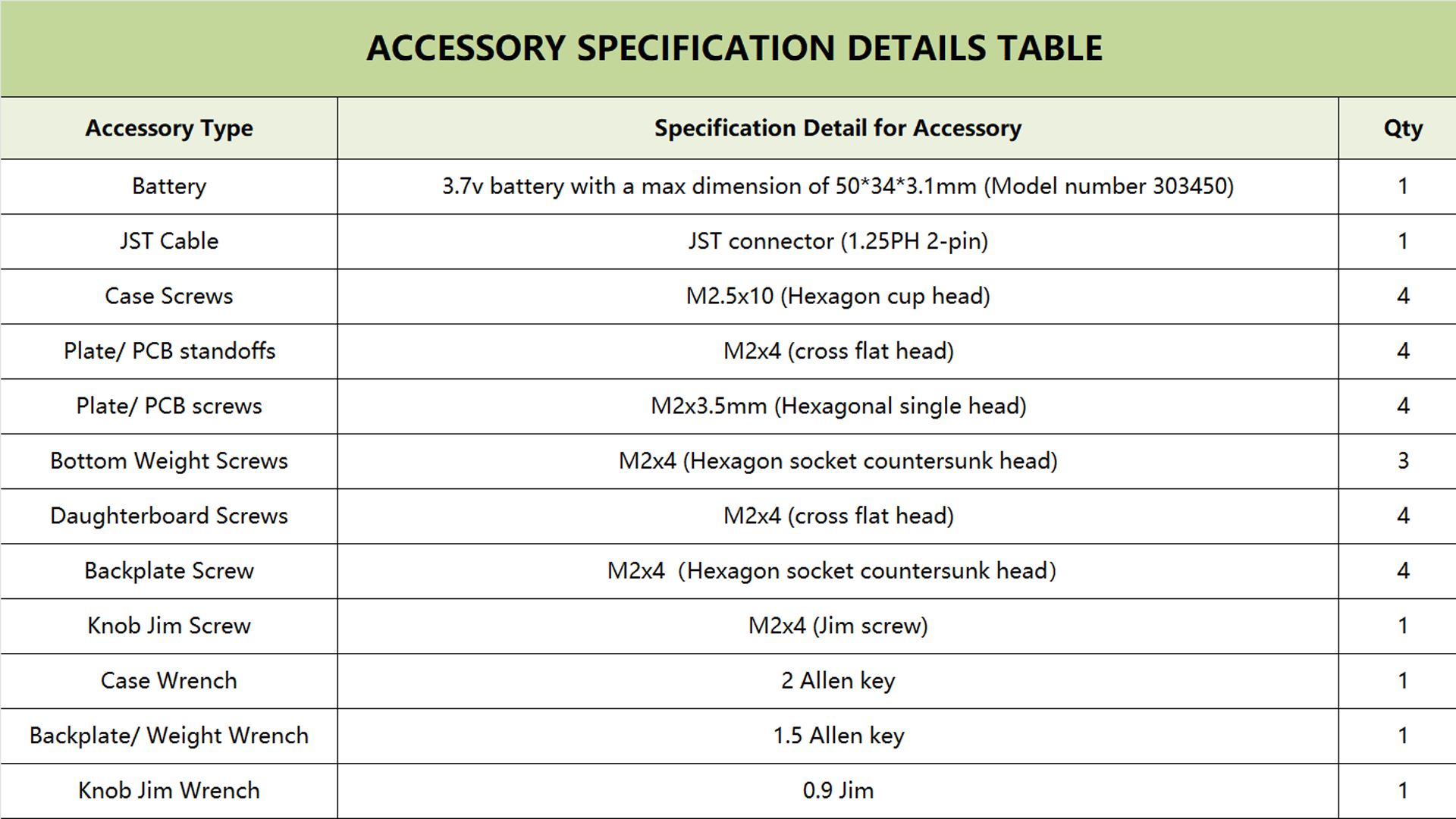 Dimensions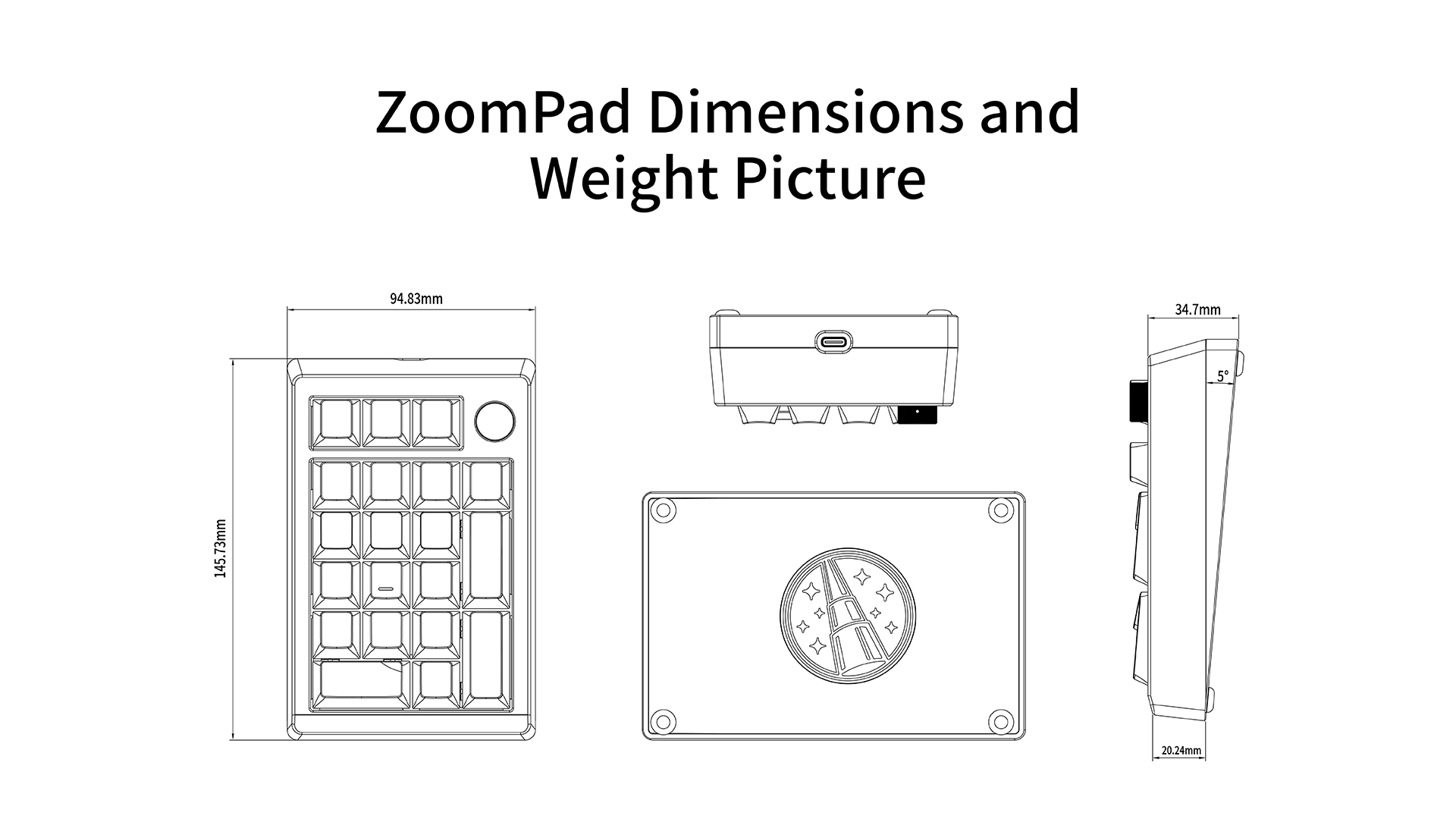 ZoomPad Manual
Meletrix Product Disclaimer
Group Buy Policy and Disclaimer
Strictly no refunds/cancellations after GB period has ended. 5% processing fee applicable for refunds/cancellations during the GB period.
Do not mix GB and non GB items in the same order, as well as items from different GBs in the same order.
This is a group buy/pre-order item. By placing an order you agree with the delivery date and acknowledge that the date may be subject to changes due to manufacturing or shipping delays.
By placing an order, you agree to the terms stated above.